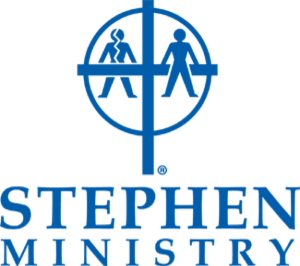 Stephen Ministry is a program to provide care for those in our congregation and community that are struggling with difficult life events. We provide individual private one-on-one [caring] listening and emotional support for anyone who is struggling.
Many of us think that we can handle the tough times on our own. Even when that is true, it can often be a lonely and punishing way to deal with many of life's challenges. A Stephen Minister can help.
Who is it for?
Stephen Ministry is for individuals who are struggling to cope with some difficult situations in their life. Those who are having a difficult time and could use a comforting, caring, and confidential listener could benefit from [having] a Stephen Minister.
Some examples of people who might benefit from a Stephen Minister are those who are experiencing:
Loss of a loved one
Cancer or other health concerns
Caring for another person with health issues
Loss of employment
Divorce
Empty nest
Difficulties adjusting to aging
Any traumatic life event
Stephen Ministry is open to members of both our congregation and our community. While it is Christ centered, people are respected regardless of their personal faith. Anything that is shared is strictly confidential.
How do you know if you (or someone you know) could benefit from Stephen Ministry?
If you (or they) are thinking that it would be helpful to talk about what is going on, but there is nobody that is really able to understand, or nobody who would be safe or appropriate to discuss it with, or perhaps [just] nobody is available, then a Stephen Minister is likely a good choice.
Who are Stephen Ministers?
Stephen Ministers are compassionate caring people who have been extensively trained to be empathetic listeners, and to keep private information confidential.
What Stephen Ministry is Not:
Stephen Ministry is not counseling or therapy, and it is not for couples, families, or groups (though individuals may separately have their own Stephen Ministers).
To find out if Stephen Ministry is right for you or someone you know, contact:
Any Stephen Minister
or Stephen Leader
Look for people wearing blue nametags with the Stephen Ministry logo
Interested in becoming a Stephen Minister?
Please contact any of the above people.
Also, note that there is extensive training that will provide you with everything you need to know to be an effective Stephen Minister (and may be useful in other areas of your own life). We do ask for a two- year commitment as a Stephen Minister after receiving the training, and you may continue beyond that.
Our Stephen Ministry program is part of a larger worldwide program. For more information see www.stephenministries.org