We are a family made up of people of all ages, from all walks of life and many different faith traditions, as well as people who have never set foot in church before. 
Everyone is welcome. Really. There is room for everyone.
We put together this Visitor's Guide just for YOU!
It contains all the info you need to know about First Pres including our Worship Services, classes, events and programs. Click the image, or the button below to read your special guide, or you can keep scrolling down to read more about us.
 What to Expect
Sunday morning when you walk in the door, someone will be there to direct you to the right place. Come in and grab a seat. Dress casually, or not. Bring the children into worship with you or drop them off in the nursery (under 5) during any service. Check out Sunday School for kids in preschool through high school (10:30-11:30 am) during the school year. Adults can drop in for classes and discussion groups and catch worship either before or after class. If you have questions, just ask! Someone will be happy to help you.
Worship Services
Worship services at First Pres feature thoughtful, relevant — and challenging — messages grounded in scripture and delivered in a personal, engaging style. Uplifting music is another hallmark. We love to employ the gifts of talented staff and volunteer singers and instrumentalists to bring glory to God and depth and meaning to all who are present. If you can't join us in person, you can participate by viewing services through our webcast.
Worship Times
9:00 am- Modern Worship in the Chapel
10:30 am – Traditional Worship in the Sanctuary
Events and Activities
Something is always going on at First Pres. Weekly activities might include attending a concert, volunteering for a rewarding shift at our PADS (Public Action to Deliver Shelter) site, joining friends for Family Night dinner and programs, engaging in an afternoon Bible study, or enjoying a special breakfast or another event. This place is busy. We love being busy together, because it means we are growing in relationships, growing in service, and growing in faith. Get involved and see for yourself how rewarding life can be as part of the First Pres family.
Our Mission
Choose Love. Be the Light. Change the World.
At First Pres, we seek to follow the example Jesus set for us in Matthew 25:31-40 when he Jesus calls on his disciples to serve the least by feeding the hungry, giving drink to the thirsty, clothing the naked, welcoming the stranger, caring for the sick and visiting those who are in prison. Jesus ends by saying:
"Just as you did it to one of the least of these who are
members of my family, you did it to me."
Our goal is to be a Matthew 25 church by continually performing all of these actions as a community. Rather than just talk about our faith, we live it out by loving God, serving people everywhere, and caring for all. 
How to Find Us
First Presbyterian Church is located on the northwest corner of Dunton Avenue and Eastman Street in downtown Arlington Heights, Illinois.
Our address is:
302 N. Dunton Ave.
Arlington Heights, IL 60004
847-255-5900
Parking, with accessibility for all, is available in the rear of the facility and may be entered from Vail Street. Additional parking is across Dunton Avenue and may be entered from Eastman or St. James Streets. Street-side parking is also readily available.
First Pres is also less than a five-minute walk from the Arlington Heights Metra station.
A convenient passenger drop-off area is on the north side of the church, accessible from the rear parking lot. A smaller drop-off area is available from southbound Dunton Avenue in front of the church.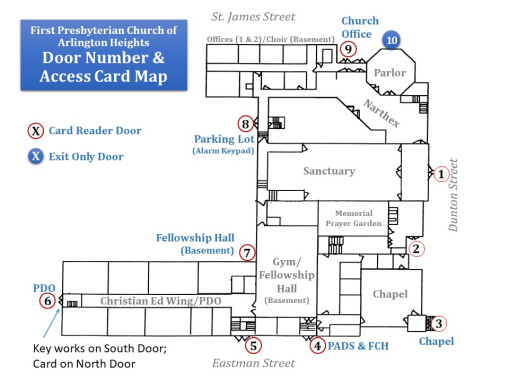 We would love to see you soon!