The church's access card system makes the church more secure, yet provides members with better access to the building for activities through coded key cards.  This page will give you an overview to help you understand the system.  Many members will not need an access card at all.
Do you need a card?
The answer is "no" if:
You typically just attend worship services, Family Night activities, concerts, or other broadly attended events. Aside from a couple doors around the childcare areas, church doors will be unlocked for major events.
If you come to the church on weekdays during office hours. Just enter by the Reception Desk at Door 9 (see map) to get a Visitor Badge and gain access.
The answer is "yes" if:
You attend activities or meetings not listed above. Church members needing evening access for meetings and other user groups can get key cards coded for your access needs. Details about access times and doors will be provided with your card. 
You'd like to have a card handy to use the Automatic Door opener at Door 9.
Good Things to Know
Cards do not disable the security alarm. The alarm is set after meetings end, weekdays, and most Saturdays. Overnight/holiday access is restricted to those with codes to disarm the system.
If you lose or misplace your key card, contact the

 

Facilities team

 

right away.
If your access needs change, you can keep the same card, just contact Facilities staff to modify your access rights.
If you do not have a card, but wish to attend an evening event be sure you have a cell phone number of another participant handy – just to be safe.
To protect our children, we restrict access to the CE wing. Only parents of current church youth, teachers, and HS youth have access to exterior doors to the CE Wing (Doors 5 and 6).
If you have limited mobility issues, a card can be set up for access to doors that are easier for you to enter the church.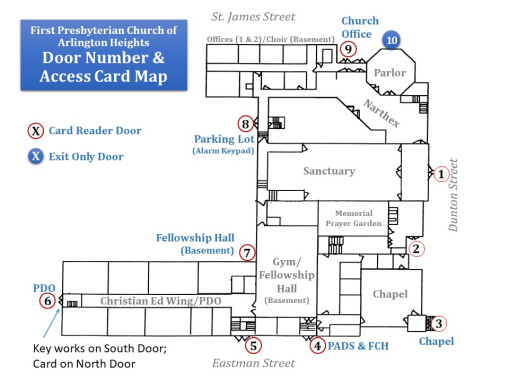 Request an Access Card
Access cards are now required for evening access, aside from large events.
If you find that your church activity now requires you to attend evening events and lack of a card leaves you out in the cold (or heat!) use the button below to contact the church's Facilities staff to get a card.
As officers and committee members change, it is the goal of the Facilities team to work with church leaders and staff to change your access rights as needed. If you find that the doors are not opening when expected, use the button below to email the team.