First Pres offers many ways for adults to interact and grow in relationship with one another as they grow in their faith. Whether it's a Sunday morning Christian education class, a midweek Bible study or a meditation class, there's something for everyone. We hope you will dive right in and get involved.
Scroll down to see class offerings, or check out the bible studies.

Loss And Grief
Sundays, September 12 – October 31 / 9:00 am / Boardroom / Rev. Judy Hockenberry
Together we will explore our experiences of loss and the grief that is connected to that loss. As we go through the eight weeks, we will develop a better understanding of healthy grief that will be grounded in biblical principles and our understanding of God.
Wednesday Engage & Encounter
Mind, Body, Spirit: The Trinity of Connecting with God
Wednesdays, September 22 – October 20 / 7:00 pm / Sanctuary / Rev. Alex Lang
Spirituality is an essential aspect of being a Christian, and yet, we each experience spirituality in a unique way. In this class, Rev. Lang will examine the various methods employed by Christians to form their spiritual connection with God and how our spirituality is expressed through our mind, body and spirit.

Wednesdays, October 6, 13, 27, November 3, 10
Instructor: Marilynn Graves
Our five week virtual career planning program starts with helping you identify skills and interests so you can build a resume and profile that highlights your experiences and strengths. We follow that step with helping you prepare for a career change through ways to source opportunities and prepare for interviews. Last, we provide an overview of what to expect when reviewing job offers.
Our next five week virtual career planning program is scheduled for Wednesdays, October 6, 13, 27, November 3, 10. To register simple send an email to CTR@Firstpresah.org with your full name, email address and phone number no later than October 3rd, 2021. Once we receive your registration email, CTR will reach out with meeting information for our first session. The CTR email can also be used for any questions.
Monday Morning Men's Bible Study
Mondays / 8:00 am / Parlor / Rev. Alex Lang
The Monday Morning Men's Bible Study Group, which resumed its meetings earlier this year via Zoom, is now meeting both in person and on Zoom. Men of all ages are invited and encouraged to join us. We have a great group of guys who share a wonderful camaraderie and fellowship while studying, learning about, and sharing our views on the word of the Lord.
We meet every Monday morning in the Parlor. The doors are open at 7:30 am, and our meetings start at 8:00 am and run about an hour. For those who choose to meet in person, coffee and breakfast treats are served. And, for those who cannot or choose not to meet in person, we continue to utilize Zoom – and the church's new Owl camera – which allows all participants to interact with each other, whether online or in person.
If you are interested in joining us, or would like additional information, please reach out to either Bill Dillon at crdillon@sbcglobal.net or Dave Berkow at dwberkow@att.net.
Proverbs 27:17 As iron sharpens iron, so one person sharpens another.
FIDE
(Faith & Illumination in a Digital Environment)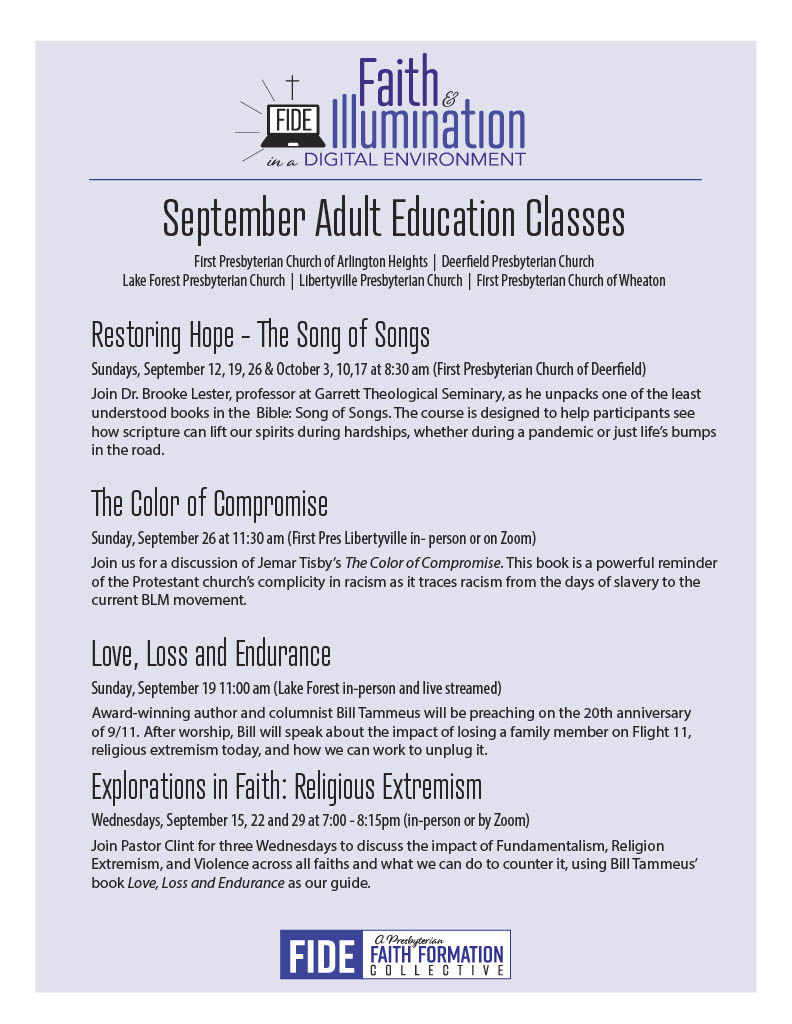 First Pres has joined forces with three other Presbyterian churches (Deerfield Presbyterian Church, Libertyville Presbyterian Church and Lake Forest Presbyterian Church) to create more opportunities for adult education.
We call this Presbyterian Faith Formation Collective: FIDE, which stands for Faith and Illumination in a Digital Environment. Since we are all going to be offering our courses online, we thought it made sense to work together to expand the adult education offerings for our communities. If you want to know more about the courses being offered at these other churches, click here.
Fall FIDE Classes Start September 12
Restoring Hope – The Song of Songs
Sundays, September 12, 19, 26 & October 3, 10, 17 at 8:30 am (First Presbyterian Church of Deerfield)
Join Dr. Brooke Lester, professor at Garrett Theological Seminary, as he unpacks one of the least understood books in the Bible: Song of Songs. The course is designed to help participants see how scripture can lift our spirits during hardships, whether during a pandemic or just life's bumps in the road.
Explorations in Faith: The Contemporary Relevance of the Ten Commandments
Wednesdays 7:00 – 8:15 PM starting October 6 (Lake Forest)
An in-depth exploration of the contemporary relevance of the Ten Commandments using Adam Hamilton's "Words of Life: Jesus and the Promise of the Ten Commandments Today." All ages are welcome. In person and Zoom.
Join Rev. Clint Roberts for a live discussion of Hamilton's book by calling 847-234-6250.
The Church Post-Sunday School: How to Be Intergenerational and Why it Matters
Wednesday, October 20, 7:00 – 8:30 pm (First Pres Libertyville in-person or on Zoom)
Becoming intergenerational is an active choice that will enrich the faith of all God's people. We'll look at several ways to build community and nurture relationships across generations in worship, fellowship, education and service, as well as some of the compelling research that underscores the importance of intergenerational ministry. This class will be led by Wendy Claire Barrie, a writer, editor, speaker, Christian educator and author of Faith at Home: A Handbook for Cautiously Christian Parents. Contact Rev. Ryan Wallace at rwallace@boxp.net or (224) 207-7586 for more information.
The Naked Now
Oct. 24, 31 & Nov. 7, 14 8:30 – 9:20 am (Deerfield)
Maddie Gold, Ministry Assistant at Deerfield, will be teaching about Richard Rohr's book, The Naked Now. We will be invited to wake up to the spiritual reality all around. Drawing from the Gospels and the greatest Christian contemplatives, he shows us what it means to be spiritually awake. Richard Rohr invites us, all of us, to slow down and to find God, or be found by God, in all the places we never thought to look. Livestream at firstpresdf.org
Contact Kathy Knezevic at Office@firstpresdf.org to become part of this important class.
We've held many classes through the years, some of which have been documented on video. Click the button below to look through our past classes and watch at your leisure.