First Pres offers many ways for adults to interact and grow in relationship with one another as they grow in their faith. Whether it's a Sunday morning Christian education class, a midweek Bible study or a meditation class, there's something for everyone. We hope you will dive right in and get involved.
Scroll down to see class offerings, or check out the bible studies.
Navigating Historical and Traditional Christianity in the 21st Century
Sunday, April 11 – May 16 / 10:00-10:45 am / via Zoom 
Instructor: Don Kaasch
This series will be more discussion driven and a chance for each of us to share in how we navigate such an exciting, and demanding, time in modern Christianity. See Church Life for full description of the class. Click the button below to register.

Wednesday Engage & Encounter
Faith After Doubt: Why Your Beliefs Stopped Working and What to Do About It
Wednesday April 7 – May 12
7:00-8:00pm via Zoom
Instructor: Ken Hockenberry
Join instructor, Ken Hockenberry, for our Wednesday Engage and Encounter Adult Education Class as we explore this new book together, and honestly face our own doubts, which can indeed strengthen our faith. See Church Life for full details of the class. Click on the link below to register.

Wednesday April 14 – May 12
7:00-8:00pm via Zoom
Instructor: Marilynn Graves
Our five week virtual career planning program starts with helping you identify skills and interests so you can build a resume and profile that highlights your experiences and strengths. We follow that step with helping you prepare for a career change through ways to source opportunities and prepare for interviews. Last, we provide an overview of what to expect when reviewing job offers.
Our next five week virtual career planning program is scheduled for April 14th – May 12th. Via Zoom we will meet each Wednesdays from 7:00 pm to 8:00 pm. To register simple send an email to CTR@Firstpresah.org with your full name, email address and phone number no later than April 10th, 2021. Once we receive your registration email, CTR will reach out with meeting information for our first session. The CTR email can also be used for any questions.
FIDE
(Faith & Illumination in a Digital Environment)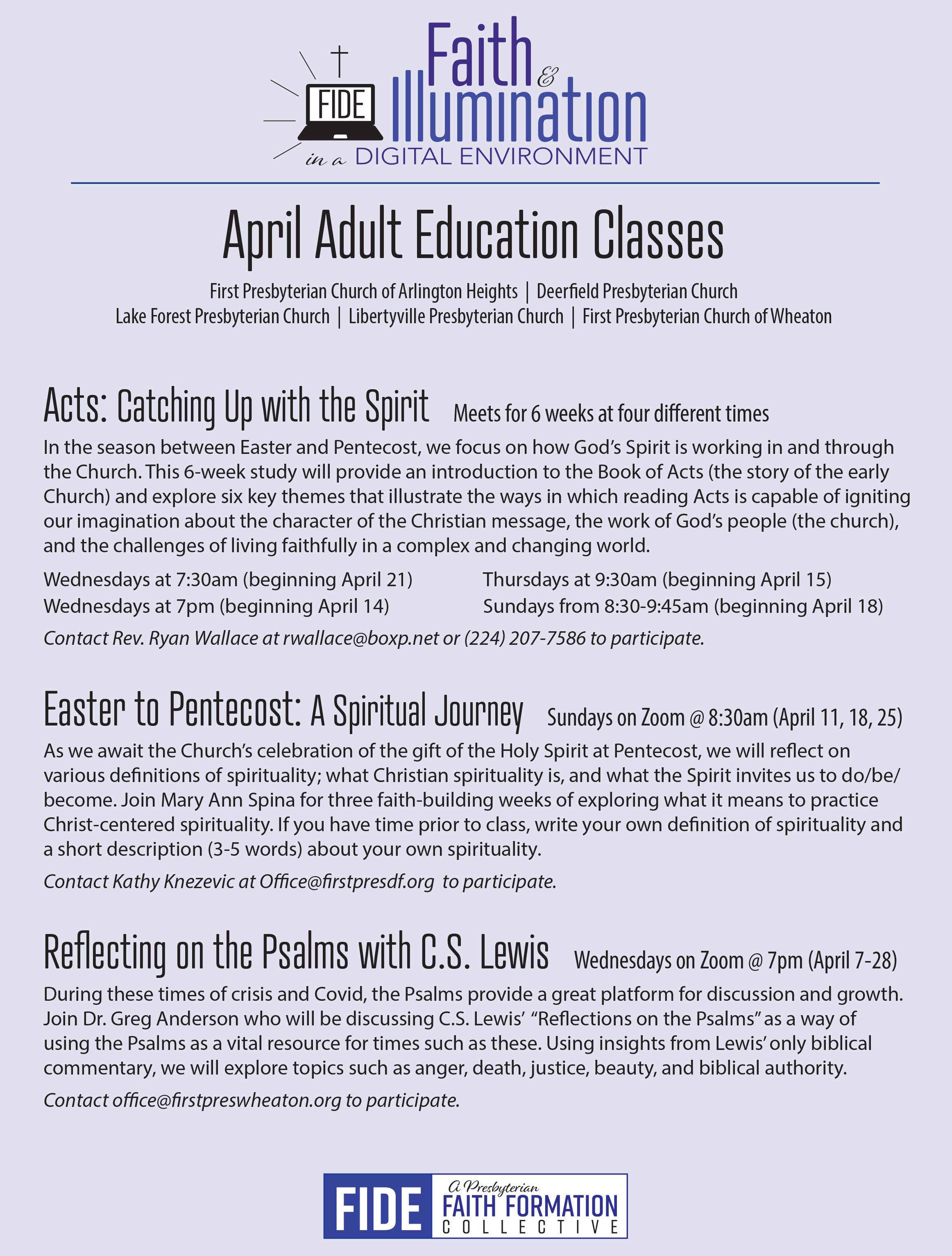 First Pres has joined forces with three other Presbyterian churches (Deerfield Presbyterian Church, Libertyville Presbyterian Church and Lake Forest Presbyterian Church) to create more opportunities for adult education.
We call this Presbyterian Faith Formation Collective: FIDE, which stands for Faith and Illumination in a Digital Environment. Since we are all going to be offering our courses online, we thought it made sense to work together to expand the adult education offerings for our communities. If you want to know more about the courses being offered at these other churches, click here.
Spring FIDE Classes Starts April 7
Acts: Catching Up with the Spirit
Meets for 6 weeks at four different times
In the season between Easter and Pentecost, we focus on how God's Spirit is working in and through the Church. This 6-week study will provide an introduction to the Book of Acts (the story of the early Church) and explore six key themes that illustrate the ways in which reading Acts is capable of igniting our imagination about the character of the Christian message, the work of God's people (the church), and the challenges of living faithfully in a complex and changing world. Please click this link to sign up to register for one of the groups.
 Groups will meet weekly for 6 weeks at four different times:
Wednesdays at 7:30am (beginning April 21)
Wednesdays at 7pm (beginning April 14)
Thursdays at 9:30am (beginning April 15)
Sundays from 8:30-9:45am (beginning April 18)
Easter to Pentecost: A Spiritual Journey
Sundays on Zoom @ 8:30am (April 11, 18, 25)
As we await the Church's celebration of the gift of the Holy Spirit at Pentecost, we will reflect on various definitions of spirituality; what Christian spirituality is, and what the Spirit invites us to do/be/become. Join Mary Ann Spina (Former Pastoral Associate, Pastoral Counselor, Spiritual Director, and Writer) for three faith-building weeks of exploring what it means to practice Christ-centered spirituality. If you have time prior to class, write your own definition of spirituality and a short description  (3-5 words) about your own spirituality.
 Classes meet Sunday April 11, 18, 25  on Zoom at 8:30 a.m.
Reflecting on the Psalms with C.S. Lewis
Wednesdays on Zoom @ 7pm (April 7-28)
During these times of crisis and COVID, the Psalms provide a great platform for discussion and growth. Join Dr. Greg Anderson who will be discussing C.S. Lewis' "Reflections on the Psalms" as a way of using the Psalms as a vital resource for times such as these. Using insights from Lewis' only biblical commentary, we will explore topics such as anger, death, justice, beauty, and biblical authority.
Contact office@firstpreswheaton.org to participate.
 Classes meet Wednesdays April 7, 11, 18, 25  on Zoom at 7:00 p.m.
We've held many classes through the years, some of which have been documented on video. Click the button below to look through our past classes and watch at your leisure.