"You have heard that it was said, 'You shall love your neighbor and hate your enemy.' But I say to you, Love your enemies and pray for those who persecute you, so that you may be children of your Father in heaven…"


Matthew 5:43-45 (NRSV)
This past Thursday, May 14th, was Courtney's 40th birthday. Prior to the Coronavirus, I had big plans to celebrate the beginning of her fourth decade. Courtney adores nature, so I was in talks with the Chicago Botanical Garden to host her birthday celebration. I was planning on flying in Courtney's family and friends from all over the United States for a surprise party.
I had it all mapped out in my mind. She would spend the first hour reconnecting. The second hour we were going to eat dinner by candlelight. The third hour was reserved for the big reveal—a present I had been orchestrating for more than two months. I had been planning on creating a short film with reflections from all of Courtney's long-time friends, family and colleagues.
I asked them to provide me with a short video or audio file where they were talking about what their relationship with Courtney has meant to them over the years. I asked them to talk about Courtney's character and the shared moments that were important to them. I also asked them to send me old photographs of the two of them together. I was amazed by the response.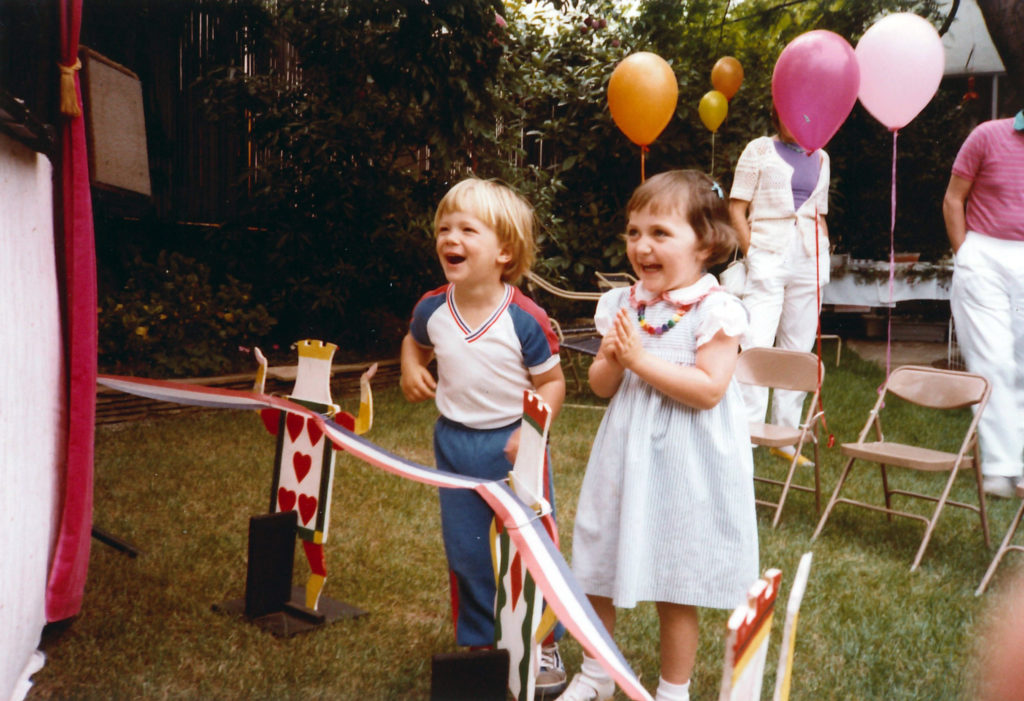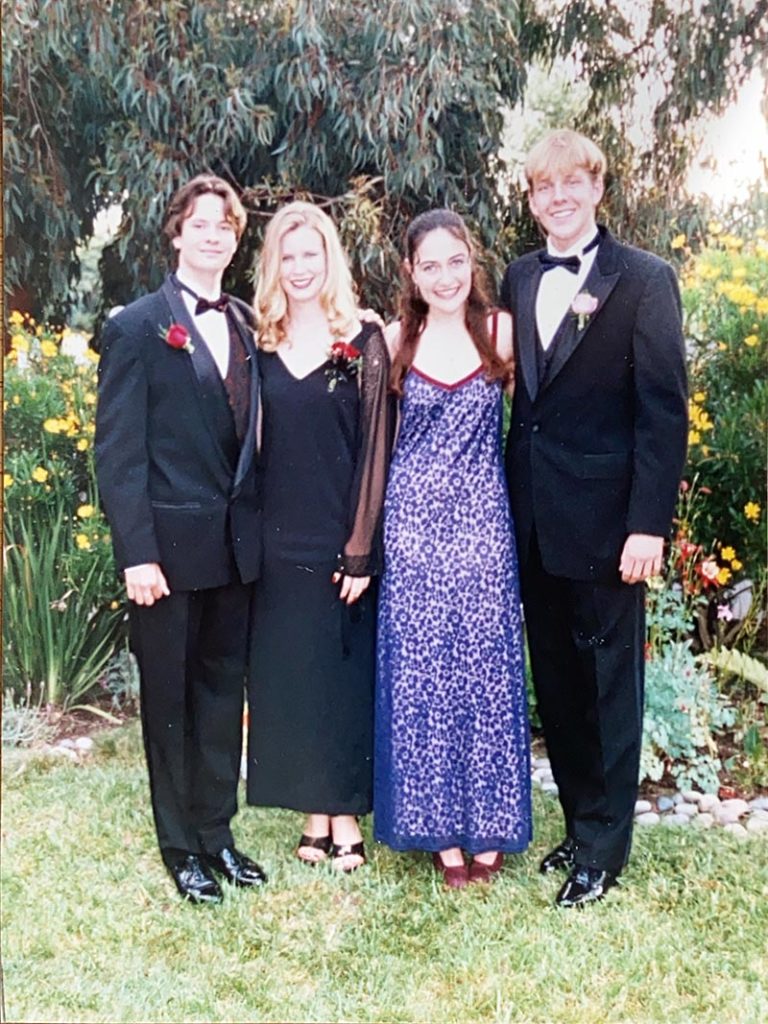 I had childhood friends of Courtney with whom she had not spoken for decades find vintage photographs that Courtney had never seen before. I reached out to Courtney's old boyfriends and work colleagues. I was like a detective, hunting down leads on contacts. I was using Facebook, friends of friends, whatever would allow me to establish a connection.
The biggest issue with this project is that I was dependent on the efforts of other people. I gave a generous amount of lead time and 99% of the people involved got me the files before or shortly after my prescribed deadline. Of course, one of the tardiest was a family member, somebody who you would think we be one of the first in line. I would gently send reminders. Nothing would come back.
Then I finally reached out with only 5 days to go and got a very terse response back, "Alex, your project is not the most important thing in the world!" This led to a full-on argument on the phone.
All I needed was one picture. At most, it would have taken 10 minutes to find. Mind you, the actual creation of this short film took me about 60 hours of editing. The dismissal of my efforts was both extraordinarily hurtful and infuriating. Since I could no longer provide Courtney with her Botanic Garden birthday party, this gift was my main surprise.
Courtney could see I was upset, but I couldn't really explain everything to her because it would give away my gift. Needless to say, I was smoldering on the inside. I had not been that livid in a long time. But then something unexpected happened. The same evening of the dispute, I was reading books with my son, Lucas. One of his favorite series is a graphic novel called Dog Man by the author Dav Pilkey.
The brilliance of Dog Man is that each novel mirrors the plots of classic novels like Tale of Two Cities or Lord of the Flies. We were reading Dog Man: Fetch 22, based on the classic novel Catch 22 by Joseph Heller. As we were reading, we came across this page: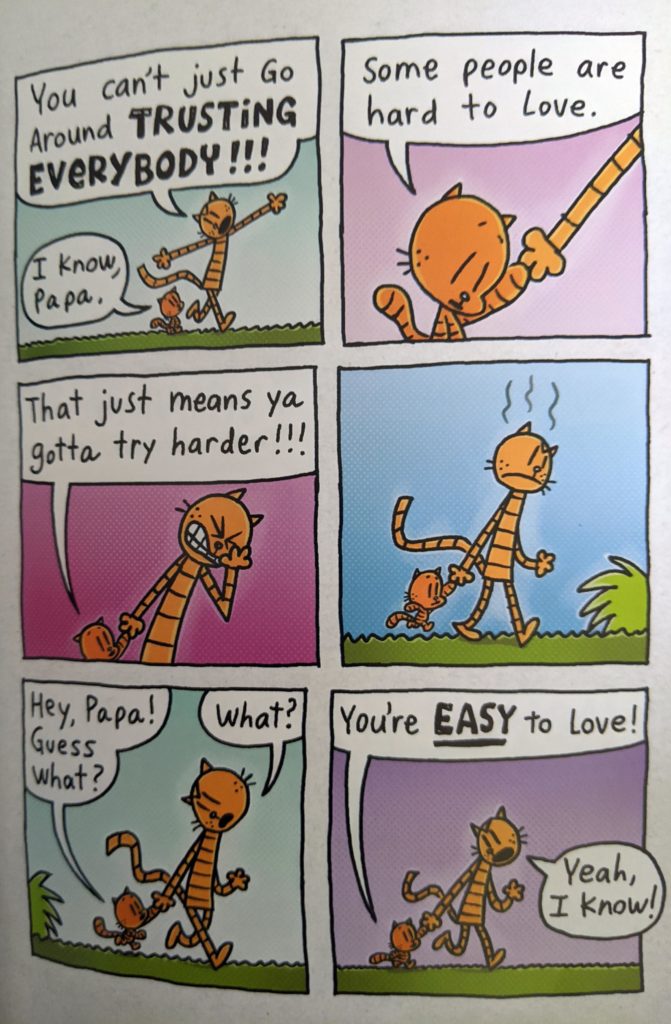 When Li'l Petey says, "Some people are hard to love. That just means ya gotta try harder." I remembered the verse at the beginning of this devotional. Some people are hard to love because they hurt us through their words and actions. Our initial reaction is to hate those who have hurt us. But Jesus encourages his followers to not only forgive that hurt, but also to actively show love to those who have wronged us.
So after putting my boys to bed, I penned an e-mail where I apologized for any harm I may have caused by my actions. I leveled no blame and simply offered words of reconciliation. By letting go of my anger and showing love, I felt overwhelmed by a deep sense of calm in my soul. Not only was I able to restore the relationship, but I was able to move forward without dwelling on the negative hurtful things that had been said to me.
I tell you this story because, in the middle of the Coronavirus, these types of negative interactions are going to increase. The stress and strain of this particular moment can cause us to say hurtful things to the people we love and visa-versa. If those situations arise for you, I encourage you to remember the words of Jesus and Li'l Petey. Some people are hard to love, but that just means we have to try harder. As Christians, we are called to rise above our negative emotions and show compassion and understanding, especially for those whom we feel are least deserving of our love.
Pastor Alex
P.S. – In case you're wondering, I finished the film on time. Courtney loved her gift!