"But about that day or hour no one knows neither the angels in heaven, nor the Son, but only the Father."
Every year, on the Friday after Thanksgiving, Courtney, Elijah, Lucas and I get into our car and take a trip to pick out our Christmas tree. Although we only have to travel a few miles, we buy from a tree farm that hauls their trees down from Wisconsin. The trees are always good quality, reasonably priced and we always pick up a quart of their maple syrup. Unlike previous years where the choice of tree fell to my discretion, this year the boys had a lot of opinions about what would and would not work. We eventually came to a consensus and bought a tree that was to everyone's liking. After getting pine needles everywhere and knocking over some unsuspecting pictures, we eventually got the tree inside the house and into the tree stand. The fun part of this tradition is decorating the tree with lights and ornaments. The boys really enjoy taking out the ornaments and adorning them to branches that are relative to their height. Perhaps one of the best parts about the tree trimming is getting to see all of the various ornaments from years past. One of Courtney's Christmas gifts to our extended family every year is a new ornament with a picture of the boys. As we pull them out, one after the other, you can see them grow right in front of your eyes.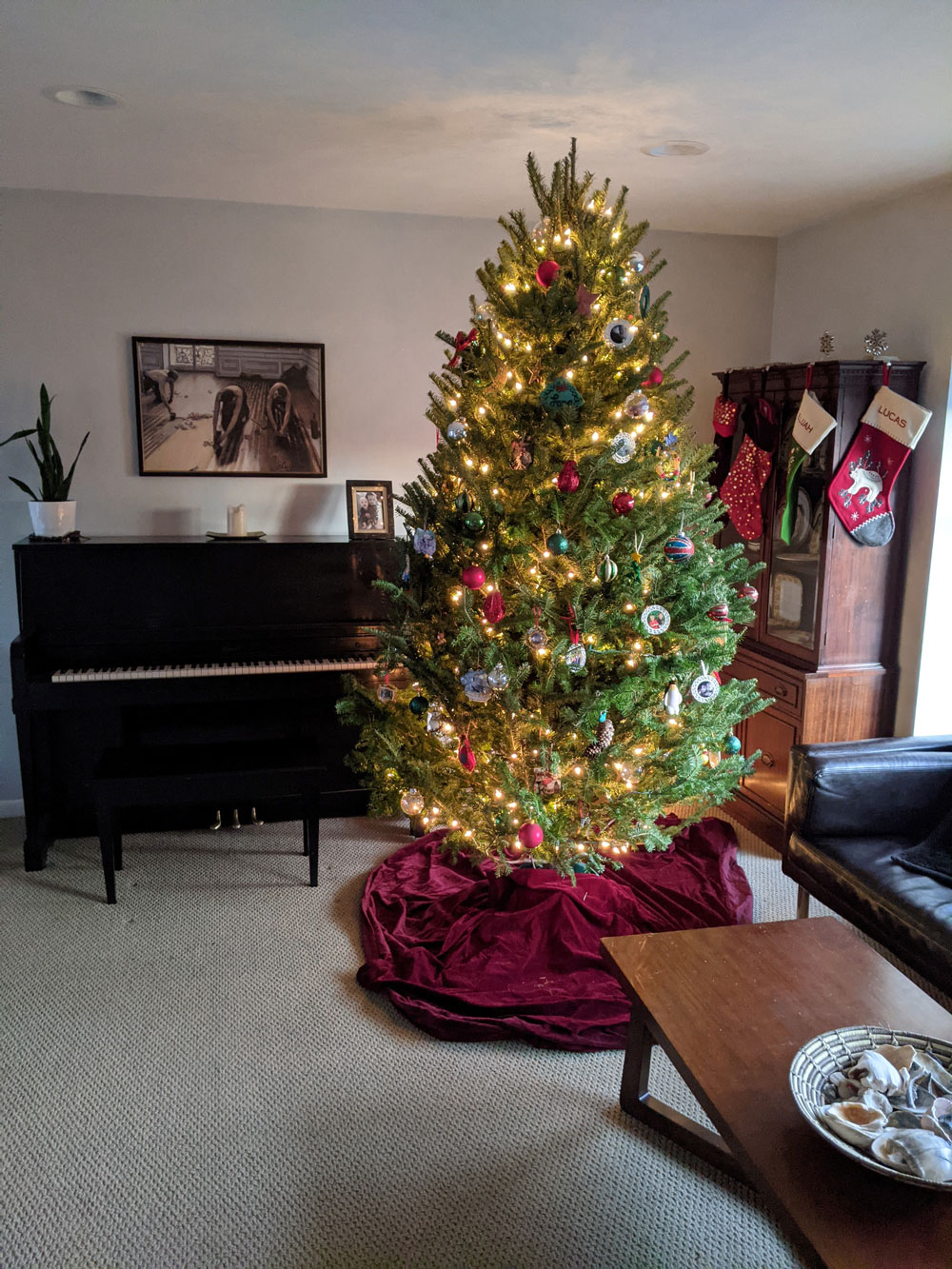 When the tree is all finished, we often stand back and bask in the fragrance of the tree. Before we know it, our house is enveloped in the scent of pine. For the boys, this is the first real indication that Christmas is close. Soon presents will start to appear under the tree and the anticipation of Santa arriving on Christmas morning will build and build until they can hardly stand it. What a sight it will be as they rip into their presents, literally shouting with glee.
Traditions. They are so very important right now. While so much of our normal lives have been stripped from us, we need anchors, reminders of the past and what was so that we can endure what is. Four weeks from now, we will be celebrating the birth of Jesus Christ, our Lord. This Christmas will be unlike any Christmas that has come before it. We will not be able to worship together on Christmas Eve. There will be no Christmas pageant or singing of Christmas hymns. Families will not be able to gather together to exchange presents. The joy of simply being with those whom we love will not be possible for many of us.
Given this reality, we need to find those traditions that are within our grasp and hold onto them. We need to do those things that bring us comfort and solace. Perhaps it's baking a pie or Christmas cookies; maybe it's writing Christmas cards to those you love; maybe it's decorating your house or calling friends and family. Whatever those traditions might be, invest in them and make sure they are a part of your Christmas this year, because one thing is for sure: we need traditions now more than ever!